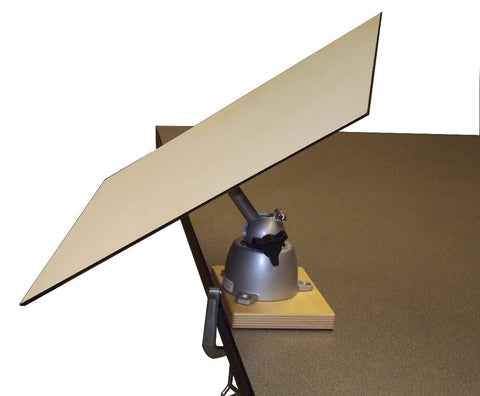 A) Large Top Orbital Easel Tripod/Clamp Model
FREE SHIPPING IN THE USA
The Orbital Easel is an artist's work holding tool like no other. Your medium is fastened to the easel surface but is free to rotate, tilt and swivel to whatever position you need. This easel is 19 1/2" x 25" to support 19" x 24" paper such as Bristol Board or a 1/2 sheet of watercolor paper.
The clamp slips into the base and will secure the base to a surface up to 2" thick. The Orbital Easel tilts from flat to just past 90 degrees and rotates 360 degrees to allow you to put your work in just the right position.
The base also attaches directly to a photo tripod for working en plein air. And the easel breaks down to fit in your art portfolio.
The Orbital Easel is ideal for people with mobility limits or who have to sit in a special position due skeletal or other issues.
The greatest new idea for artists since
Check out a video on the Orbital Easel here:
"Thanks to the Orbital Easel I can work a painting for hours without back pain."  Colored pencil artist and author Alyona Nicklesen - Texas
"This is a great idea. I wish I had thought of it." Colored pencil artist and author Gary Greene - Washington
"The pleasure of the swivel and now the joy of having the pencil work better makes for a very, very happy customer. To say I'm thrilled with my purchase is an understatement. Best money spent in decades."  Graphite pencil artist Brenda Milstein - Australia
"Your systems are great. Thanks for your contribution to my life." Tristan Farnon artist San Francisco, California
---